Living with Serena

Credits
Producer
Leonizer
Visuals
Itmakesmeblush
Copywriter
Agrippa
Information
Release Date
July 6th, 2015
Version
0.96
Plot
Julian is in the middle of transitioning between the middle-aged party boy to responsible husband. Even though he lives with his beautiful faience, Serena, she pushes Julian to be more husband material on their relationship. Now, Julian has just two weeks to prove to Serena, and himself, that he is capable of living the life of a mature adult.
Gameplay
Characters
Expansion
Shortly after its release, LoP asked gamers if they wanted to see an expansion of Living with Serena. On October 8th 2015, LoP released information on the LoP blog about the new expansion including several pictures. The information hinted that "two new girls" will be joining in with a possible release date by the start of the new year.
On January 7th, 2015, LoP announced the expansion has been slightly delayed due to game texts not being delivered.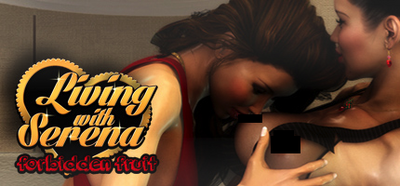 On February 19th, 2015 LoP released the expansion, entitled Forbidden Fruits with the help of user Oni for the expansion concept. Which includes:
Two Threesome Opportunities
Two New Characters: Lorena and Melissa
Extended Scenes from the Original Game
Nicole's Own Story-line
7 Day Expansion (21 days total)
8 New Endings Added
New Location: Pub
Sequel
On July 3rd, LoP asked the community if they would be interested in a sequel to Serena and her "darker side".
Facts
The achievement Winter is Coming is a small reference to the American book series Game of Thrones, where one clan's, The Starks, expression of bad things are soon arriving, is this phrase.
The achievement 69 Shades of Serena, is a reference to the American book series 50 Shades of Grey, a story about a woman experiencing BDSM for the first time.
When players give Serena a cup of coffee in her office, Serena will say ""I hope you are not trying to get a 'hot coffee' break...". This is a reference to the video game Grand Theft Auto: Sand Andreas, where there is a secret mission where players can have sex with a female character after they complete the mission. Before the scene, the woman will offer the character into her home for hot coffee.
When Julian watches TV, he will say "he'd murder anyone who spoiled the Red Wedding to him". This is a reference to the American book series Game of Thrones, where during a wedding celebration the bride, groom and many other party guests were killed.
The expansion concept was presented by Oni.