Club Velvet Rose

Credits
Producer
Leonizer
Visuals
ITMAKESMEBLUSH
Copywriter
Daman
Information
Game Link
[http://lopgold.com/index_cvr.php]
Release Date
February 1st, 2017
Version
0.92
Plot
Crazy people do crazy things for the ones they love. For James, it comes down to drastic measures with his wife Veronica in order to save his marriage. He asked her what would make her happy and so far nothing has worked, even after romantic dates, movie nights and everything in between Veronica remains unimpressed. But once he hear that Veronica never had sex with another man except him, well why not a swingers club?
Gameplay
Characters
Expansion
On February 8th, LoP announced that a expansion was in the works and showed a picture of one new character; Miranda. Also, announced that there would be one more couple to be added to the game.
On April 21st, LoP debuted Teri. One half of the new couple that would be added to the expansion.
On May 8th, LoP teased on their blog five renders and stated that they have "50% of CVR renders ready."
On August 25th, LoP announced several upcoming projects and stated that the expansion will be "able to release this game in the first half of next month."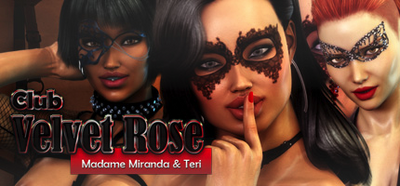 On September 6th, the long awaited expansion was released simply entitle Club Velvet Rose: Madam Miranda & Teri. It included:
140 new images
18 new animations
3 new endings
Extended scenes
3 New Characters
Facts
Locations by Szuga
Club Velvet Rose was teased on LoP's blog on January 7th 2016 as one of four games slated for 2016 release along with three images from ItMakesMeBlush.
On September 20th 2016, Club Velvet Rose was announce on LoP's Blog that it will be postponed.
On the September 24th, it was announced that Daman was assigned as the writer.
On December 5th, 2016, LoP announced that Club Velvet Rose would be released at the beginning of 2017.
Che and Alexandra mention a former basketball player that came to the club. This is a reference to Jacob Moore from Jacob's Rebound.
During Ending 3, Veronica hires an attorney for her divorce to James. This is actually Hank Moody from Hank Moody: Divorce with a Smile.
The achievement "Mama Said" is a reference to American rapper LL Cool J's song Mama Said Knock You Out.
Ad blocker interference detected!
Wikia is a free-to-use site that makes money from advertising. We have a modified experience for viewers using ad blockers

Wikia is not accessible if you've made further modifications. Remove the custom ad blocker rule(s) and the page will load as expected.