Plot
Noah, the main protagonist, is invited to his friend Liam and his wife Olivia's apartment for a blind date with a model named Maya. Noah can peruse the beautiful lady or even try his luck with his friend's wife.
Gameplay
Characters
Expansion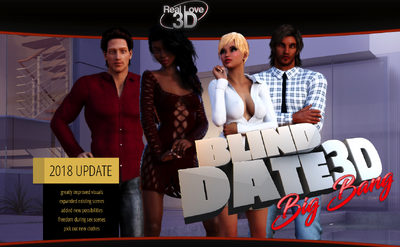 On November 15th 2016, LoP announced an expansion for the game was in the works. On July 12th, 2018, they released the new expansion to the original game entitled "Big Bang". This update includes:
Updated Visuals, Textures and Lighting
Scene Extensions to Previous Scenes
New Scenes
More Body and Facial Movements from Characters
Director Mode: Allows for angle changes during sex scenes
New Clothes and Attires for Characters
Facts
On May 14th, 2015, the LOP team unveiled their newest project along with a 30 second teaser trailer. It would take another 9 months before the game would be released.
This was the first 3D to be released by LOP.
First game to be released on LOP's newest side site, reallove3d.com
On March 14th, 2016, the LoP team updated on their blog that an updated version of the game will be re-released for players who already bought the game previously. According to the blog, more scenes will be added as well as new graphics, one being an new updated apartment interior that LoP shared pictures of.
Upon the expansion's release, LoP announced that any player who also purchased the original version of the game, will be able to download and pay the new expansion for free.